To manage document compliance, you can now upload forms for your tracked workers in StaffingNation!
Tracked workers are non-onboarded workers who did not complete their employment profile in StaffingNation (e.g., international workers, SOW, 1099 contractors).
Company Admins, Multi-Company Admins, and Hiring Managers have access to the Document Compliance Dashboard page if the "Enable Tracked Worker" functionality is turned on for their company.
*Hiring Managers will only have access to the departments and locations they are assigned to.

If you have access to multiple companies, select a company and you can also select the time frame at the top right-hand side of the screen.
How to Add a Document Type
Go into the company's Company Administration page and select Documents. To add a document type, select "Add Type."
Create a name for the document type. Specify if the document expires. Select the document reviewer from the drop-down list if the document requires review.

How to Upload a Document
If a worker has a missing, rejected, or expired document, you can email the worker directly from the Document Compliance Dashboard page by clicking on their email.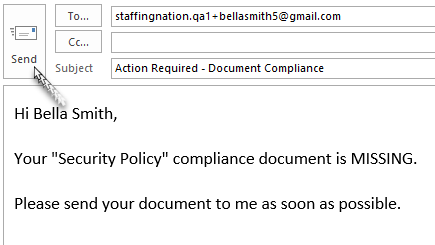 Once the worker has provided their document, you can go into the worker's engagement to upload it by clicking "Add Document."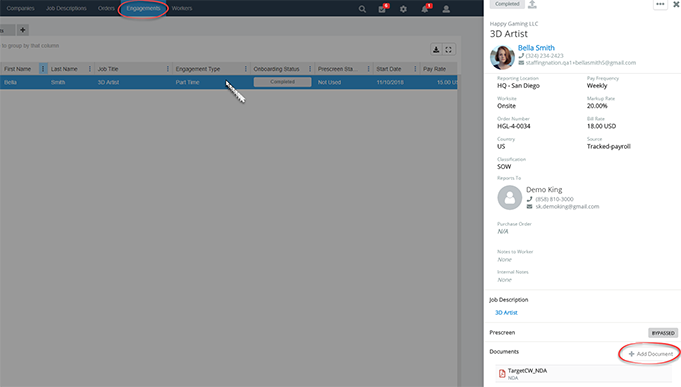 Once the document has been added, the document status on the Document Compliance Dashboard page will be updated.
How to Approve a Document as a Document Reviewer
You will receive an email notification if an uploaded document requires your review.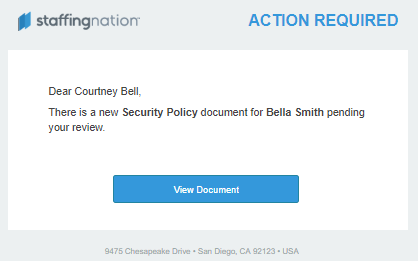 Go into the worker's engagement to review their document.

Once you click Review, you can "Approve" or "Reject" the uploaded document.

Document Statuses
Verified – The document has been approved by the document reviewer or the document has been uploaded without the need of a document reviewer.
Uploaded – The document is pending approval from the document reviewer.
Expired – The document is expired.
Rejected – The document is rejected by the document reviewer.
Missing – The document is missing.