Information on who's eligible to enroll in benefits, instructions for enrollment and how to log into your benefits account.
Who's Eligible to Enroll?
Employees classified as FULL TIME and scheduled to work at least 30 hours per week are eligible to enroll in medical, dental and vision coverage. New full-time employees will be able to begin enrolling in coverage on the 7th of the month prior to their benefits effective date.
For those that enroll, coverage is effective the first of the month following at least 30 days of employment. Please refer to the Eligibility Chart below to view your enrollment window and when benefits will be effective.
If you're eligible for benefits and have not received an Enrollment email, please contact benefits@tcwglobal.com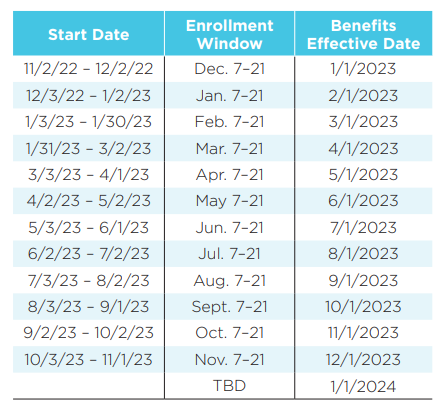 Employment Statuses & ACA 12-month look-back Measurement

How To Enroll
On the first day of your enrollment window, you will receive an enrollment email containing log in instructions and benefit details. Please refer to the Eligibility Chart above to view your enrollment window and when benefits will be effective.
Go to the Benefits Enrollment Portal at www.targetcwbenefitslogin.com and follow the steps.
Username: The first initial of your first name, the first six characters of your last name and the last four digits of your Social Security number.
Password: Date of Birth (YYYYMMDD format)
To view the Benefits Guide, please email benefits@tcwglobal.com
To find providers in your area, please use our Provider Locator
Can I Change My Coverage Anytime?
Once the enrollment window has closed and/ or once benefits are effective, employees are not able to make any changes to their coverage(s) until the end of the year during Open Enrollment or if you've experienced a qualifying event that satisfies federal regulations. Click HERE for more information regarding Qualifying Life Events.
IMPORTANT: New elections and supporting documentation must be completed and submitted within 30 days from the date of your Life Event. To complete the life event process, please contact benefits@tcwglobal.com for further instructions.
Employee Cost of Coverage
Your cost of coverage will vary depending on the plan option and tier you choose. Medical, dental, and vision contributions are deducted pre-tax from each paycheck (weekly), saving you tax dollars.
IMPORTANT: If you are no longer an active TCWGlobal employee due to voluntary or involuntary termination, employee coverage terminates on the last day of the month in which the termination occurs. Any owed insurance premiums from prior or current month(s) will be deducted from your final paycheck. Insurance coverage is subject to termination for employees that go 30 days without paying premiums.
---
At TCW, we value happy and healthy employees! We also believe that our employees and culture have played the biggest roles in our success, which is why we strive to provide a comprehensive benefits package. Take a look at what we offer!

Allied Benefit Systems
TCWGlobal offers full coverage EPO and PPO plans through Allied Benefit Systems that use the Aetna network and include prescription drug coverage through CVS Caremark. The plans satisfy the requirement of Minimum Essential Coverage and Minimum Essential Value under the Affordable Care Act. The plans offer co-payments for doctors' visits and prescriptions, while also offering an out-of-pocket maximum so employees can have peace of mind in the event of a serious illness or accident. Health benefits are often complex and can be difficult to understand. Our TPA, Allied Benefit Systems, will process claims, answer questions, and other important management functions related to our health plans.
Please note: TCWGlobal does not handle/ process insurance claims. Please contact Allied directly.
Healthcare Plan Machine Readable Files (MRF's)
This link leads to the machine-readable files that are made available in response to the federal Transparency in Coverage Rule and includes negotiated service rates and out-of-network allowed amounts between health plans and healthcare providers. The machine-readable files are formatted to allow researchers, regulators, and application developers to access and analyze data more easily.
alliedbenefit.sapphiremrfhub.com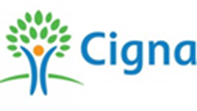 Cigna Dental
TCWGlobal also offers a dental HMO (for CA residence only) and a dental PPO plan through Cigna. Overall good health includes a healthy mouth, gums, and teeth. Gum disease can cause health conditions, like heart disease, stroke, diabetes, and other diseases. Getting regular dental checkups can reduce your risk. Cigna's dental plan makes it easier to manage good oral health. Here's how:
Covers most preventive care at low-cost or no extra-cost to you
Includes screening for oral cancer and other types of care*
The fees you pay – or copays – are clearly listed on your Patient Charge Schedule (PCS), so you know what you'll pay beforehand.
As a Cigna Member, you can create an account at MyCigna.com to print forms/order ID cards, view claims, and coverage, and locate providers.
Call a Cigna Member Services at (800) 244-6224 during pre-enrollment and after enrollment to get personalized and useful guidance to help you understand your coverage, check if your doctors are in- network, and answer any specific questions you may have.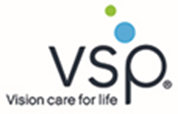 VSP Vision
TCWGlobal offers vision coverage through VSP. VSP offers access to great eye doctors, quality eyewear, and the affordability you deserve, all at low out-of-pocket costs. As a VSP member, you can create an account at www.vsp.com to view your in-network coverage, find the VSP network doctor who's right for you, and discover savings with exclusive member extras.
Call VSP Member Services at (800) 877-7195 if you have additional questions about your vision benefits.
Questions about benefits?
Please call (858) 810-3000 or email the Benefits Team at benefits@tcwglobal.com. We're happy to help!
---
REQUIRED NOTICES FOR EMPLOYEES