If you're employed by TCWGlobal and have received any payments from us, you can access your pay history and pay stubs online through WebCenter. Your pay stub provides a breakdown of the paycheck including current and YTD taxes, adjustments, etc. and is often requested when applying for a home, loan, or anything else that requires proof of income/employment.
To download your pay stub at any time:
1. Log into your WebCenter account
2. Click on the Pay History tab

3. Click on the desired pay check

4. On the right hand window, select "View Printable Version"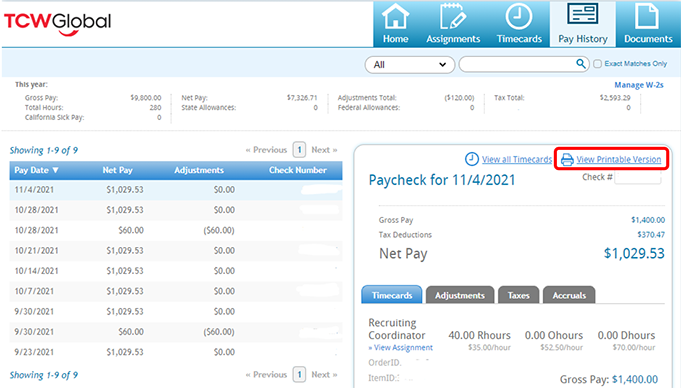 5. Your pay stub will open in a new window. Click the save icon to download it to your computer as PDF or Excel document, or print the page from your browser it if you need a paper copy!

If you have any questions regarding your pay stub, send us a chat, email hello@tcwglobal.com or call 858-810-3000 and one of our team members will be happy to assist you! 😎