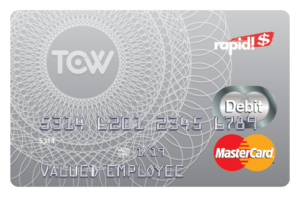 TCWGlobal is pleased to offer the Rapid! PayCard, complimentary for TCWGlobal workers. With a paycard, workers can have paychecks automatically deposited each payday! This provides workers instant access to their money; no more waiting for mailed checks to arrive. 😃
More information for the Rapid! PayCard is available on the TCWGlobal website.
To Request a Rapid! PayCard:
You can sign up for a Rapid! PayCard while completing your onboarding through StaffingNation, or you can request a Rapid! PayCard at any time by completing the below form:
Once the form is submitted, a TCWGlobal team member will confirm that the card has been mailed out, along with some helpful information for activating the card, FAQs, etc. Cards are mailed via standard mail, so please allow 7-10 business days for the card to arrive.
If you have any questions or need assistance, feel free to send us a chat, email hello@tcwglobal.com or give us a call at 858-810-3000. One of our team members will be happy to assist you! 😊
To contact Rapid! PayCard directly, you may call 1-877-380-0980.