When onboarding through StaffingNation and if you encounter the "Third Party Verification" section, please update the following fields which will identify an authorized 3rd Party representative responsible for completing Section 2 of your web-based Form I-9 –
Approver First Name
Approver Last Name
Approver Email
Note – The 3rd Party representative must be 18 years of age or older, excluding yourself.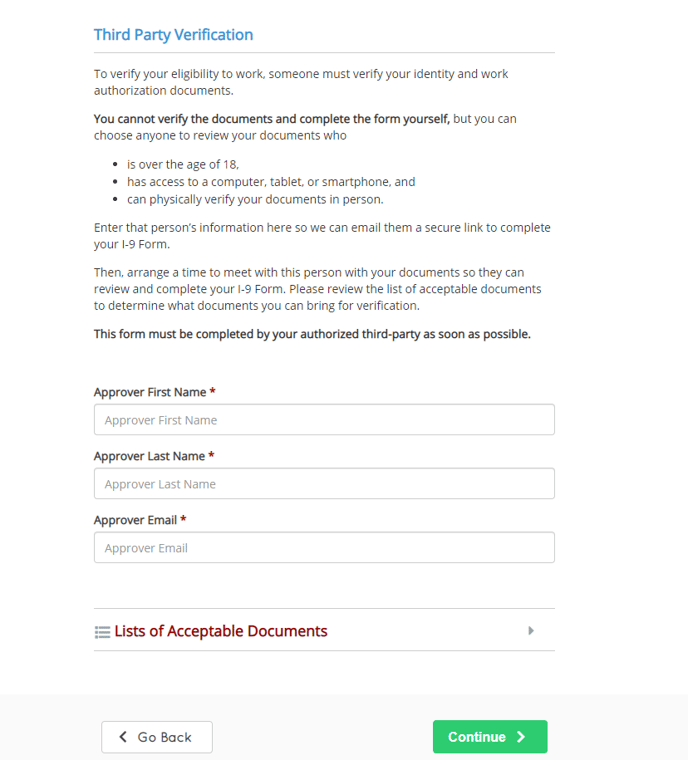 Once the 3rd Party representative's name and email address have been submitted, an email notification will be sent to their email inbox.
Then, the 3rd Party representative will need to click the link in the email notification to complete Section 2 of your I-9, with the appropriate identification documentation you provided them (a list of acceptable documentation is included in StaffingNation, and can be found by visiting the following website - USCIS.gov).
As soon as the 3rd Party representative submits the required fields and uploads proof of the required document(s) necessary to complete Section 2 of your web-based Form I-9, a TCWGlobal team member will be notified and we will review the submitted information!
Note – Section 2 of your I-9 must be completed by your 3rd day of employment.