You will complete your employment profile along with legally required web-based forms in StaffingNation in 3 simple steps.
Step 1: Review Your Offer
You will receive an email from StaffingNation with a "REVIEW YOUR OFFER" link. Click on the link to view your offer letter.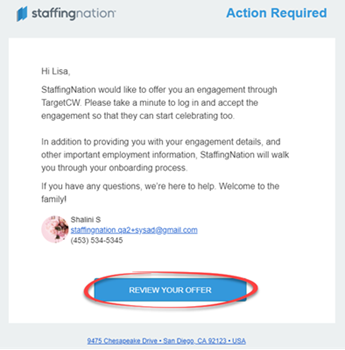 Once you review the details of your engagement, you can accept or reject the offer. If you accept the offer, sign your offer letter and click "Accept Engagement."
Step 2: Set Up Your Account
Once you accept your offer, you will be directed to the StaffingNation site. You will be prompted to create a password and set up your account.
Step 3: Complete Your Employment Profile
Once you set up your StaffingNation account, you will complete your employment profile. You will fill out your general information, tax withholding, payment option, I-9 eligibility verification, and employer documents electronically.
Once you complete your portion of the onboarding forms, you will be directed to your employment dashboard where you can see the next Actions and view a copy of your completed onboarding documents under the Engagements page.
Don't forget to specify your employment preferences, additional experience, skills, and education on the Profile page so the system can match you with future opportunities!