Follow these 3 simple steps to submit a job order for vendors to fill and hire candidates!
Step 1: Create a job order in StaffingNation.
Once a job description has been approved for a job, you can create a VMS job order in StaffingNation for vendors to fill.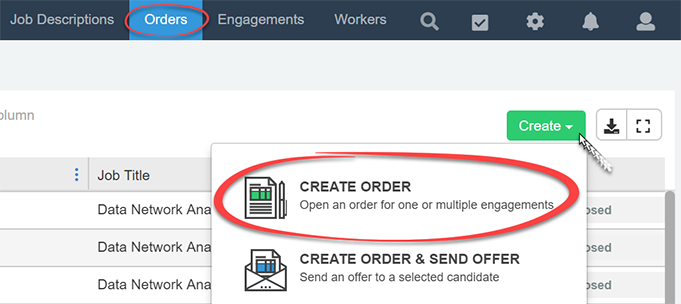 Once you submit the new VMS job order, the VMS Manager will need to approve it. Once the order is approved, the chosen vendors will receive an email notification to review the new order and they can accept or decline to fill the order.
Once a vendor accepts to fill the order, the vendor can start submitting their candidates.
Step 2: Decide on the submitted candidates.
You will receive an email notification once a vendor submits a candidate. You will then log in to your StaffingNation account to View Candidates and review their resumes by clicking on the VMS order on the Orders page.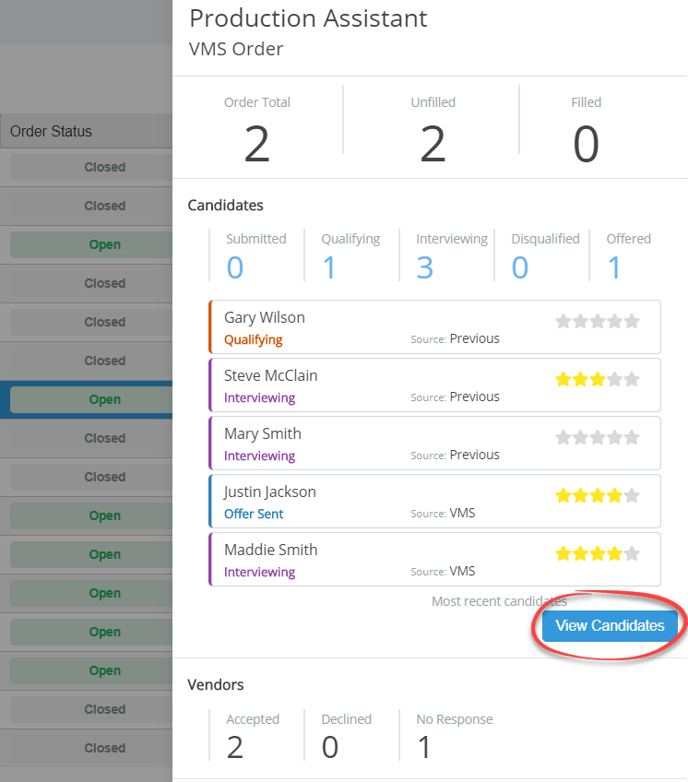 You will have the option to select Consider, Don't Consider, or Request Interview. Rating a candidate will automatically advance their status to Considering.

If you select Don't Consider, the vendor will receive an email notification with the feedback you provided.
If you select Request Interview, the VMS Manager and the vendor will both receive an email notification. The VMS Manager will then coordinate the interview scheduling between you and the vendor via email.
You will have the ability to rate candidates and leave Comment on the candidate dashboard for everyone to see.

Step 3: Hire a candidate.
Once you decide to hire a candidate, select Hire Candidate. The vendor will then receive an email notification to accept or reject the final offer.

Once the vendor accepts the final offer, an official offer letter is sent to the new worker and the new worker will need to complete their employment profile in StaffingNation.

You will have full visibility of the worker's onboarding status on the Engagements page.