PEO vs. HRIS : Here's What You Should Know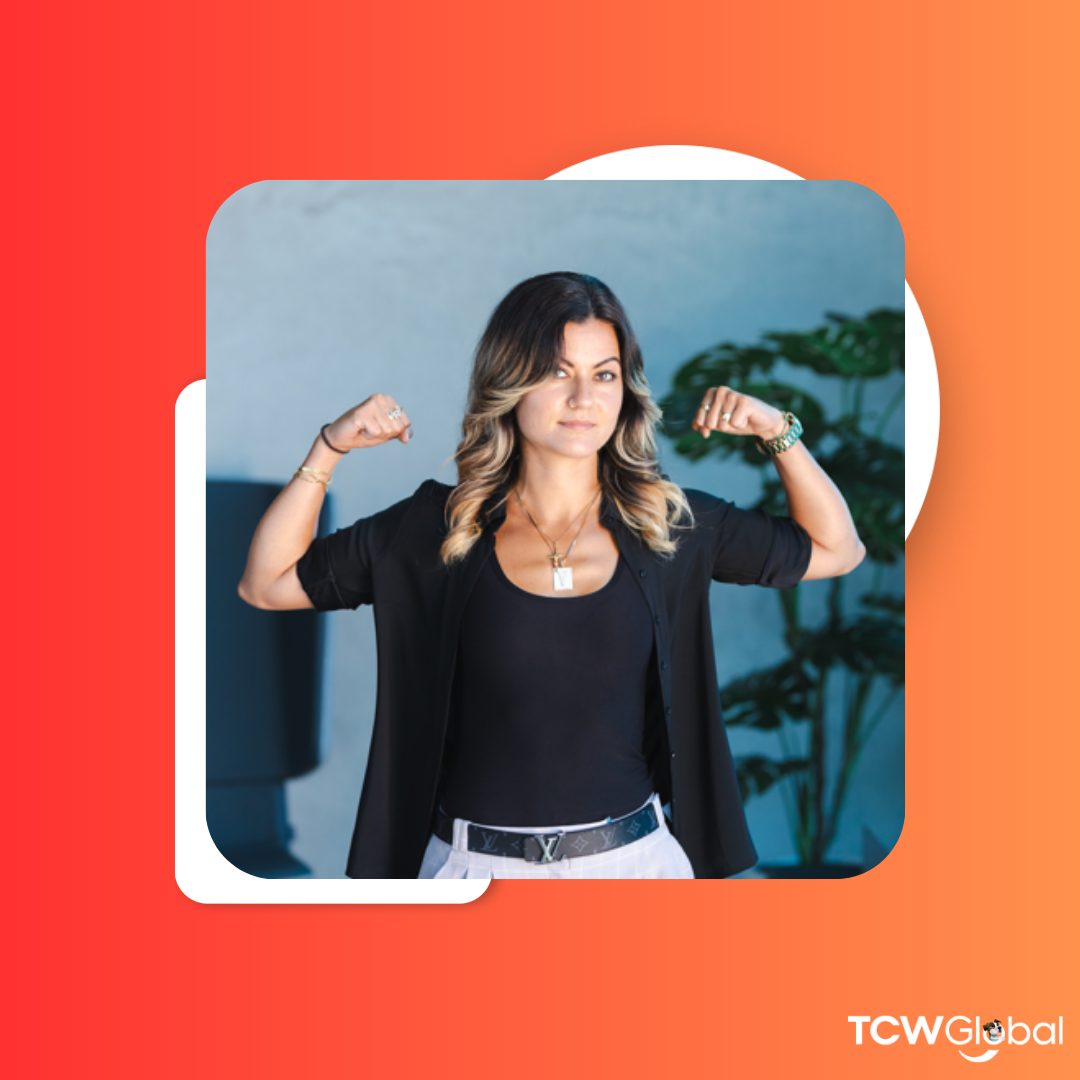 PEO vs. HRIS : Here's What You Should Know
When growing your business, staying ahead of the game often means making smart decisions about how you manage human resources.
Some popular options that have emerged to help businesses tackle their HR needs are PEOs (Professional Employer Organizations), HRIS (Human Resources Information Systems) and EORs (employer of record).
Let's look at all three.
HRIS: Streamlining HR from Within
Imagine having a tool that allows you to manage all your HR tasks from within your organization. That's precisely what an HRIS does. Unlike a PEO or an EOR, an HRIS is an internal software tool that enables you to view and manage various workflows while automating specific manual tasks. These systems provide greater oversight over worker data and functions, all within the confines of your company.
Using an HRIS simplifies managing various aspects of HR, giving you control over organizing and carrying out your HR processes. You'll also have access to more information about your workers than ever before, empowering you to make more informed decisions about hiring, training, and performance evaluations.
The Pros and Cons of HRIS
On the positive side, an HRIS can streamline human resources management processes, saving time and money while generating better visibility into multiple layers of the business' current workforce and HR processes..
From automated reminders and benefits administration to improved data accuracy and integrated data management, an HRIS can be a valuable asset for your organization.
However, it's important to note that an HRIS has downsides.
Setting up an HRIS is often can be complicated, and without assistance may be challenging. Additionally, there may be acquisition and maintenance costs, especially for larger systems that require a specialist to manage.
PEO: An Another HR Solution
PEOs can offer a robust approach to HR management. A PEO is a third-party company that provides specific service offerings like payroll processing and recordkeeping, employee benefits, and HR administration for companies. By partnering with a PEO, businesses can outsource certain HR functions, benefits management, and payroll processing to a single solution. This relieves businesses of the need to hire and manage their own HR teams, allowing them to focus on their core operations.
The Pros and Cons of PEOs
PEOs can deliver significant advantages to small and mid-sized businesses that lack HR capabilities or resources to manage broader programs. By taking over administrative tasks like benefits administration and payroll management, PEOs can alleviate several HR-related pains, giving business owners more time and resources to focus on growth.
However, there are drawbacks to using a PEO
Many companies choose not to go with a PEO because certain industries have unique HR needs and regulations. PEOs may not always be well-versed in the intricacies of every industry, making it challenging to address specialized requirements adequately.
Here are some other drawbacks to consider when using a PEO:
Lower Quality of HR Services: Some businesses find that the level of HR support provided by the PEO might not meet their expectations, leading to dissatisfaction with the services.
Compliance Not Guaranteed: While PEOs can help with compliance, the ultimate responsibility still lies with the company, and mistakes made by the PEO can impact the business negatively. The company remains the legal employer and continues to hold all related liabilities and responsibilities.
Limitations to Growth: When a company engages a PEO, the company must still establish the required presence in every state where it has employees.
Business owners need to carefully consider these challenges and weigh them against the potential benefits of using a PEO. Each organization's unique needs and priorities should guide the decision-making process.
Employer of Record (EOR): The Best of Both Worlds
While PEOs and HRIS can offer a variety of solutions to a company, there is an additional option that combines the advantages of both – the Employer of Record (EOR). An EOR acts as an HR solution like a PEO by managing the payroll processing, worker benefits, and HR administration. And an EOR like TCWGlobal comes with an HRIS system already in place. Even more critical, an EOR will serve as the employer of record for the workers you engage.
Advantages of Employer of Record (EOR):
Streamlined Payroll and Tax Compliance: An EOR takes on the responsibility of payroll processing and ensures compliance with tax regulations, relieving the company of these administrative burdens.
Legal Compliance: EORs stay up-to-date with labor laws, employment regulations, and other legal requirements, reducing the risk of non-compliance for the business.
Domestic and International Expansion Support: EORs can be beneficial for companies looking to expand into new countries or regions without directly setting up a required presence, as they can handle local employment and legal complexities.
Benefits Management: EORs may offer access to expansive benefits packages, which can be particularly useful for smaller companies that might not have the negotiating power on their own.
When choosing between PEOs, HRIS, or the EOR solution, evaluating your business's unique needs and long-term objectives is vital.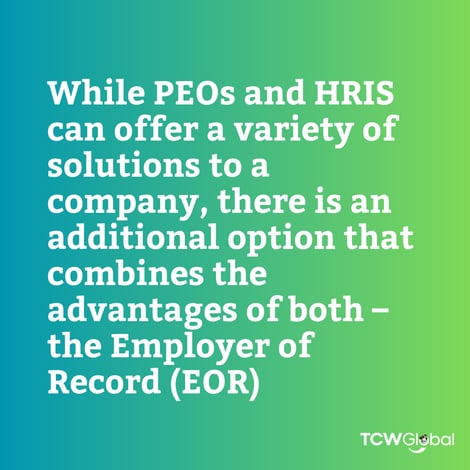 While it can be hard to know whether a PEO, an individual HRIS or EOR offer is right for you, often the EOR option emerges as the best choice, providing companies with a perfect blend of a built-in technology-driven HRIS system, a expert partner in addressing the complexities ofemployment laws in multiple jurisdictions, provides comprehensive insurance protections and, payrolling operations as well.
Whether you're a small startup or a growing enterprise, making the right choice for your business can significantly impact your overall success. So, take the time to weigh your options, consider the pros and cons, and choose the solution that aligns most effectively with your business goals.
Your future success may very well depend on it.
Next Steps
At TCWGlobal, we understand the complexities of choosing the right HR solution for your business. With our extensive experience of nearly 15 years, we have successfully managed various global HR challenges.
Whether you have questions about PEOs, HRIS, or the EOR solution, our team of experts is well-equipped to provide you with the guidance and support you need to make informed decisions.
Trust TCWGlobal to be your reliable partner in finding the best solution tailored to your unique needs.